Smith Snow Helmets

Ultimate integration
At Smith, they design helmets and goggles to work together as a fully integrated system. For the helmet line, the mist important factor in integration is the AirEvac ventilation system. This is the bridge that allows goggles and helmets to function as one system, venting warm moist air away from the goggles, through the helmet climate control system and ultimately away from the head.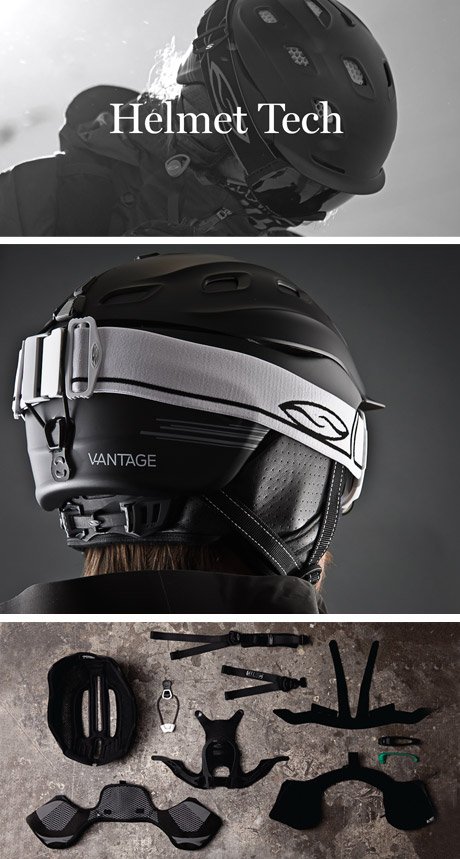 INTEGRATION BEGINS WITH A PRECISE FIT
Ultimate integration starts with the precise fit of the Smith goggle and helmet. Smith helmets are designed to match the curvature of the goggle frame, eliminating "gaper gap" and allowing precise alignment between the helmet AirEvac and the goggle venting systems.
AIREVAC: MAXIMUM AIRFLOW IS CRUCIAL
Goggles fog when standard helmets trap warm, moist air in the goggle chamber. Smith's AirEvac ventilation systems generate maximum airflow and pull warm, fog-causing air out of the goggle. The warm air is allowed to exhaust out of the top of the goggle and begin its path through the helmet's AirEvac system.
AIREVAC 2: CONSTANT AIRFLOW
AirEvac 2 continues to drive the warm air away from the goggle through external vents and internal channels in the EPS liner. Internal airflow can be adjusted through the helmet's Regulator climate control system.
REAR EXHAUST VENTILATION
The warm air that originally built up in the goggle has been forced out via the AirEvac ventilation system, has traveled through the AirEvac 2 EPS vent channels, and is now being exhausted at the furthest distance possible from the goggle. Ultimate integration between goggle and helmet from start to finish.