Bloc Ski Goggles
Bloc Systems Ltd was established in 1988 with the creation of Bloc eyewear. Bloc goggles are constructed using the latest technology that promises unprecedented clarity without sacrificing safety and protection. Bloc aims to always push the boundaries with their goggle design, production and protection. It's Bloc's commitment to performance and quality, as well as, exceptional value for money that has made Bloc goggles so popular today.
Bloc has been producing ski goggles for many years now, making quality frames that are built for punishment and perform in the harshest conditions. In a range of styles and sizes to meet the needs of all slope goers, Bloc goggles are a must have accessory.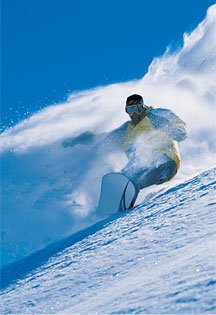 Bloc ensures their ski goggles protect against 100% of the harmful UVA, UVB and UVC rays, and their range is comfortable to wear. Bloc goggles are available with double anti-fog lenses and a double-vented 'Air System' that helps prevent lens fogging in extreme weather conditions. Bloc's innovation guarantees clear vision at all times.
Double lenses - Bloc Ski Goggles
Flexible and comfortable fit for any face shape;
100% UVA, UVB, and UVC protection up to 400nm;
Thermal air cushion to ease fogging;
Anti-fog double lenses.
Vented lenses - Bloc Ski Goggles
Featured in the Bloc Shimmer, Spirit 3 OTG and the Venom ski goggles;
Double lens air system for constant and regular airflow;
Ventilation system moves air through the ski goggle and filters moisture and snow particles.
Goggle Care - Bloc Ski Goggles
Keep Bloc goggles in the soft case provided when not in use
.
Storage temperatures should not exceed 50 degrees Celsius.
Clean Bloc goggle with a non-abrasive cloth, the cloth should be clean and free from any scratching agent.
Warranty
All Bloc Goggles are supplied with a 12 Month Guarantee from the date of purchase against manufacturer defects. This warranty does not cover scratched lenses and proof of purchase will be necessary from an authorised Bloc dealer.