Von Zipper Goggles

Von Zipper goggles have a unique style of their own that is fresh, hip and funky, and offer 100% UV protection.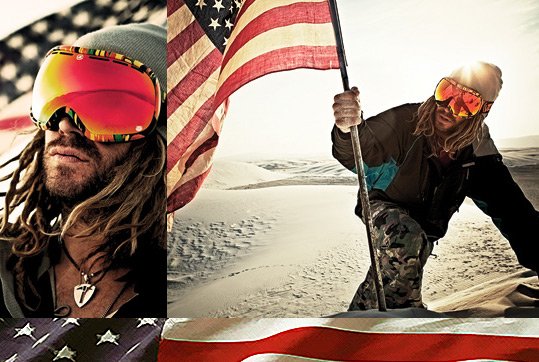 All Von Zipper goggles are made to the highest technological standards, giving you a great performance every time. Put on a pair of Von Zipper goggles and go have the time of your life in style!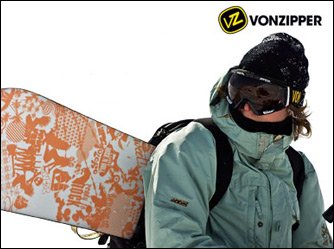 Over the years, Von Zipper has sponsored many professional ski and snowboarders, working with them to produce some cool designs that really stand out. Riders who rate Von Zipper goggles include pro snowboarder Marius Otterstad, pro snowboarder Pat Milbery, free skier Matt Sterbenz and pro snowboarders John and Eric Jackson.
Thermo Polyurethane Frame
All Von Zipper Ski Goggle frames are 100% Thermoplastic Polyurethane. This material ensures Von Zipper's Goggles are flexible and durable which makes for a comfortable fitting frame in all weather conditions.
Moisture Wicking, Fleece Lined, Triple Density Face Foam
All Von Zipper Ski Goggles feature Triple Density, Fleece Lined face foam. This provides a comfortable and secure fit that helps eliminate moisture to maintain a clear, fog free lens.
Articulated Hinges
Articulated Hinges ensure Von Zipper Goggles fit perfectly with, or without a helmet.
Extendable Outriggers
Von Zipper's Extendable Outriggers allow for a perfect helmet fit. They are extendable for flexibility to be worn with a variety of helmet sizes.
Helmet Compatible
All Von Zipper Goggles are helmet compatible for optimum protection and safety whilst enjoying the winter season.
Integrated Frame Ventilation
Von Zipper's Integrated Frame Ventilation offers maximum airflow through the goggle chamber to eliminate moisture build-up and lens fogging.
Dual Adjustable Strap
All Von Zipper Goggles can be personalised for a more comfortable thanks to Dual Adjustable Straps as standard.
Silicone Lined Strap
Von Zipper's Silicone Lined Strap provides a secure fit when worn with, or without, a helmet.
Von Zipper Goggle Technological Features:
 
 
FACE FIT
 
Unisex Goggle
 
 
 
 
 
Girl Model
 
 
 
Small Face Fit
Medium Face Fit
 
 
 
 
Large Face Fit
 
LENS CONSTRUCTION FEATURE
 
 
 
 
Spherical
 
 
 
Cylindrical
Wide Peripheral Vision
100% UV Protection
 
 
 
 
Premium Optical Quality
Dual Layer Lens
Anti Fog Coating
Integrated Venting System
 
 
 
 
 
Polarised Lens Option
 
 
 
 
Extra "Bonus" Lens Included
 
FRAME CONSTRUCTION FEATURE
Thermo Polyurethane Frame
Triple Density Face Foam
Fleece Lined Face Foam
Anti Moisture Wicking Face Foam
 
 
 
 
Articulated Hinges
 
 
 
 
 
 
Extended Outriggers
Helmet Compatible
 
 
 
 
Integrated Frame Ventilation
Dual Adjustable Strap
 
 
 
 
 
 
Silicone Lined Strap