Bolle Turbulence Sunglasses Lenses
Instructions for changing lenses for the Bolle Turbulence sunglasses.
OPERATING THE INTERCHANGEABLE LENS SYSTEM ON THE BOLLE TURBULENCE
Removing Bolle Turbulence Lenses:
To remove the lenses, carefully push the lens out at the nose piece area with thumbs and slide the lens out. To protect the lenses, store them in the specially designed slots in the front of the pouch provided.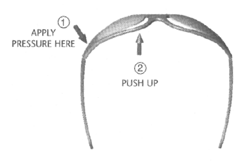 Fitting Bolle Turbulence Lenses:
Using the guides on the frame, fit the lens back in by sliding the small side of the lens in first and once in place, snapping the larger side of the lens at the nose piece. You chould hear it snap in place. Make sure the lenses are secured in place. Once both lenses are securely in place, use the lens cloth provided to polish the lenses.