Police Sunglasses

The latest Police sunglasses and eyewear collections feature classic designs with an 80's edge. Expressing bold colours such as blue and white, these sensational Police sunglasses display a dynamic edge with modern urban designs. With a mix of acetate and metal frames Police sunglasses have an individual stylish edge.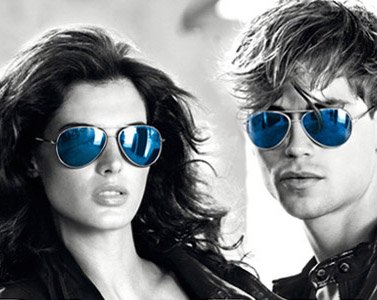 Police, a lifestyle brand
Police sunglasses, metropolitan appeal, midway between the present and the future, for those looking for a distinctive product, where lines of metropolitan inspiration co-exist with new structures. This is a brand with a biting and resolute style; well represented by such illustrious spokesmen as Bruce Willis, George Clooney and David Beckham who have all lent their image over the years.
The new spokesman for the eyewear is the celebrated actor Antonio Banderas. This Hollywood hero of timeless Latin appeal perfectly complements the Police brand values of passion, confidence and glamour with substance.
The Police brand was launched in 1983 in Italy. The name was initially inspired by the eyewear sported by U.S cops in the 1980s, but the vision developed to embrace a spectrum of different designs, materials and colour schemes.
A combination of spontaneous creativity and the expertise of trend ensure that each new Police sunglasses collection perfectly targets future wearers.
Police sunglasses - ever at the forefront of fashion, expressly unisex and stylish. The Police sunglasses collection puts the accent on ultradynamic lines, with sharp, vibrant designs that reflect the latest fashion trends; modelled by icons that echo the Police mood.
The sensational character-defining steel frames and contrasting dark lenses, a gutsy remake of a successful 1980s model, specifically pioneered for an icon akin to David Beckham, offer maximum expression and a captivating look.
If you crave a casual, sporty image Police have merged aluminium temples and dual-mirror lenses to create attractive tones and an unusual yet stylish mix of colour.
Exclusively for those who prefer a more classic style with a dynamic edge, the Police sunglasses collection incorporates lightweight frames and simple shapes, which combine technology and comfort to form eye-catching, clean-cut products.

An amalgamation of a famous name reinforced by consolidated experience within the world of fashion generates this versatile collection that interprets the desire of a diverse public.
There are many inventions: from the cylindrical lenses for the overlapping glasses supported by a beryllium copper very light structure with arms made of transparent injected material, to the panoramic metal glasses with lenses assembled in a sandwich way using visible screws. Other models instead use "a jour" lenses to create very bent glasses, where an inspiration deriving from the space design emerges.
For people preferring the understatement, there are plastic models having more classical shapes, with rubber opalescent terminals and slightly convex lenses.
Police Lenses
All Police lenses, whatever colour are treated with U.V 400. All Police lenses are Optical Class 1 eliminating optical distortion.
Most Police lenses are CR39 except where a mirror coating is applied. In these cases a polycarbonate lens is used. The mirror coating significantly reduces the amount of light , which can be transmitted through a pale coloured lens.
Please note: Police peacock blue lenses should not be used whilst driving. These lenses affect the ability to tell the difference between red and amber at traffic lights. However, they look great on the beach or in a nightclub!