Beginners Guide to Buying Ski Goggles
Is this your first winter holiday and you aren't sure what ski goggles are best? Don't worry; the team at Vision3k have put together some information for beginners, to help you make an informed decision.
Choosing the right ski goggle - value versus performance
At Vision3k, we offer a variety of priced ski goggles to suit any budget
Our entry priced ski goggles range generally provide basic protection and functionality and are a good starting product for any beginner. These goggles will not leave you out of pocket if you decide that winter sports are not for you.
Our mid priced goggles are our most popular range and suitable for beginners as well as more advanced winter sports enthusiasts. These offer better protection and improved technology for better functionality.
Our higher priced ski goggles offer superior technical quality, protection and performance. However, these goggles are more economically viable if you know you will be continuing long-term to participate in winter sports.
It is worth remembering that ski goggle performance and quality can really affect your experience on the slopes and investing a little more at the offset may save you money in the long run.
Adult Ski Goggles
Most adult ski goggles are designed to be unisex, apart from the more obvious feminine choices. Generally, if the colour and style of the goggle appeals then it is only a matter of sizing and fit. In order to ensure optimum fit, it is worth measuring your face size so you have a rough idea of how big or small a goggle should be.
Children's Ski Goggles
When buying children's goggles, it is important to remember that many will grow out of them quite quickly. That said, it is still important that children's eyes are properly protected from the damaging rays of the sun.
First it is worth measuring your child's face to get a rough idea of size needed. We offer an approval service for you to try different ski goggles on your child before making a decision. (see our Returns Policy in the Customer Services section).
Most children's ski goggles are supplied with orange lenses for low light conditions or in flat light (i.e. overcast weather). If your child is going to be using their ski goggle throughout the day it may be worth looking at the Bolle ski goggles collection, some of which offer category 3 lenses for brighter weather conditions. Alternatively, it may be more suitable to buy a pair of ski goggles suitable for low light and then a pair of sunglasses for brighter conditions. The sunglasses can then be worn throughout the year making them more cost effective.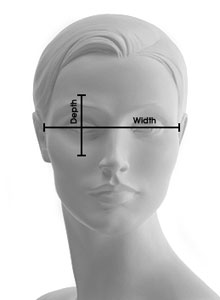 Measuring for Ski Goggles
We recommend that before making your first goggle purchase, you measure your face to get a rough idea of what goggle size you require. Generally, ski goggles are either for small, medium or large faces but fit a range of measurements within that category.
Ski goggle measurements are taken for the width and depth of your face. To measure the width of your face, we recommend you measure the space between both temples, and for the depth, take a measurement from the middle of the cheekbone to just above the eyebrow. This will tell you approximately where the foam on the goggle will fit on the face.
How to tell if a ski goggle is a bad fit
When buying ski goggles it is vital for performance and protection that they fit properly. If you are snowboarding or skiing in cold weather then you may well wear your ski goggles all day, and maybe for the whole trip, so an uncomfortable goggle can effect the enjoyment of your holiday.
A ski goggle should not pinch down on the bridge of the nose. If this happens, try adjusting the strap to tighten it, which will lift the goggle slightly. If the goggle still pinches, then a smaller fit is required.

The ski goggle should not be felt on the outer eye socket area. If this happens then it is too narrow, and a wider fit product is necessary.

If wearing OTG (Over the Glasses) goggles is vital, the goggle shouldn't be too tight. This can be dangerous should you fall.

OTG ski goggles should fit sufficiently to ensure glasses do not slip when worn on the slopes. When trying the goggle on, it is worth shaking you head quickly to check if the glasses slip. This will ensure that glasses are held comfortably but securely in place when on the slopes.
OTG (Over the Glasses) Ski Goggles and Prescription Optical Inserts
OTG Ski Goggles
OTG ski goggles are designed for wear over prescription glasses for visual acuity whilst skiing. These are a less expensive option to having a prescription optical insert as they can be used even if the wearer's prescription changes. These goggles are safe for wear over glasses but it is important that the fit is correct. OTG ski goggles look the same as normal goggles but tend to be a little deeper to comfortably accommodate the glasses and ensure a good circulation of air inside the goggle to minimise misting. OTG ski goggles also have either an indent in the foam by the head strap, or a section of foam missing in order to accommodate the arms of the glasses. OTG ski goggles can be worn with contact lenses, however, you may experience sore or dry eyes.
OTG goggle technology has improved over the years offering better protection against misting or fogging. OTG ski goggle lenses are treated with an anti-fog coating to help protect against misting. If you are concerned about misting we recommend you purchase, from an optician, an anti-fog spray (sometimes known as a fog buster) which you apply every couple of days to the glasses themselves. This will improve fog protection on the slopes.
For children, OTG ski goggles are an excellent option. Under UK law Vision3k is unable to glaze prescription inserts for children under 16 years of age. This is because their eyes are still developing and changing. OTG ski goggles allow continued wear despite any prescription changes and are cheaper to replace than optical inserts.
For beginners, OTG ski goggles are particularly good because they allow glasses wearers to try winter sports and are less expensive than the prescription optical insert option.
If you are conscious of other people seeing your eyewear or the optical insert through the lens then there are a number of OTG ski goggles that a supplied with a mirrored lens, the lens mirror may help to hide this.
Ski Goggle Prescription Optical Inserts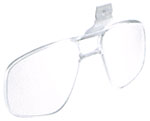 Some ski goggles will accommodate a prescription optical insert, which can be glazed to a specific prescription. These inserts fit into the goggle frame and allow glasses wearers to have optical acuity without wearing their own glasses under the goggles.
Optical inserts will not fully alleviate misting, because the insert sits close to the face, so air circulation is reasonably limited. At Vision3k, we can offer a hard MAR (Multi Anti-Reflective) coating, which will help ease misting on the slopes. This will obviously increase the glazing costs but will offer improved mist reduction. A MAR coating must be added to the insert at the point of glazing and cannot be offered after.
In order to configure a ski goggle optical insert, we will require copy of an up-to-date (within last 2 years) prescription in its original format as well as a Pupil Distance (PD) measurement. Please note that under UK law, we are unable to glazed optical inserts for children under 16 years of age. We can supply a ski goggle and unglazed clip for your practitioner to glaze.
The design of optical inserts varies from brand to brand and product to product. Therefore, it is not always possible to put a glazed optical insert into a number of different goggles. So, if you change your goggle it is likely you will need to purchase a new insert. However, if you are planning to become a regular skier/snowboarder then it may be more cost effective to buy goggles, which take an optical insert.
Prescription Adaptors (Rx) available for the following brands: Adidas, Bolle and Smith Optics.
Skiing and Snowboarding Goggles - Difference?
There is no difference between goggles for skiing and snowboarding. All goggles sold at Vision3k are suitable for both sports.
Interchangeable Lenses
Most ski goggles can tolerate two to three lens changes in its lifetime but this does not make them interchangeable. Some ski goggles come with interchangeable lenses, which allow skiers/snowboarders to change their goggle lens depending on light conditions. When buying ski goggles for the first time, it is worth considering when you will be using the goggle. Generally, darker lenses are suitable for bright light conditions, orange, vermilion and yellow are suitable for low light and clear are best for night time wear. (Please see the lens category section for more information) If you are planning to use your goggles throughout the day, it may be best to invest in interchangeable ski goggles which will allow you to change the goggle lens depending on slope conditions, weather and light intensity.
Ski Goggle Lens Categories
The lens category (measured in percentages or categories) indicates the amount of light absorbed by the lens.
CATEGORY.0
0-20% LIGHT ABSORPTION
Lenses are either transparent or slightly tinted - suitable for night wear.
CATEGORY.1
20-60% LIGHT ABSORPTION
Lenses are slightly tinted - recommended for overcast/flat light conditions.
CATEGORY.2
60-80% LIGHT ABSORPTION
Lenses are moderately tinted - suitable for overcast/flat light conditions.
CATEGORY.3
80-90% LIGHT ABSORPTION
Lenses are darkly tinted - recommended for bright light conditions.
CATEGORY.4
92-97% LIGHT ABSORPTION
Lenses are very darkly tinted - recommended for extremely bright light conditions but not suitable for driving.
Category 0 - 3 lenses are normally clear, orange, vermilion or yellow. These maximise the percentage of light transmitted through the lens. Clear lenses are best for those who want to ski at night, while orange, vermilion or yellow are suitable for flat light conditions. Yellow is also recommended for white-outs (blizzards). Categories 3 to 4 are more suited to use in brighter weather conditions, particularly when skiing/boarding at higher altitudes or on glaciers where reflection off snow and ice is more intense.
Ski goggle lenses are either Cylindrical or Spherical. Spherical goggle lenses have a more rounded appearance (sometimes referred to as looking bug-eyed) than cylindrical lenses, which look flatter. Spherical lenses offer a greater degree of peripheral vision on both the vertical and horizontal. This enhances the ride for both skiers and boarders as they need only move their eyes to get optimal vision as opposed to having to move their head from side to side. Cylindrical lenses are flatter in appearance.
Anti-Fog Coatings are applied to the inner aspect of all ski goggle lenses to help protect against misting and fogging. For the most part, this coating is not integral to the lens but sprayed on and so can be wiped off. It is important that if goggles get wet you do not wipe the lens dry as this will remove the anti-fog coating, instead lenses must be left to dry naturally.
Double lenses are not a feature of all goggles but offer better fogging protection that single lenses. Double lenses are two equally curved lenses arranged with a watertight seal around the edge. This makes the lens sturdier but more importantly, creates a thermal barrier helping to cut down fogging.
Mirrored lenses aid the reduction of UV glare advancing the UV protection offered by the lens. These are particularly useful if you plan to do some mountaineering whilst on holiday. Mirrored lenses can also hide optical inserts and prescription eyewear when wearing OTG goggles.
Polarised lenses eliminate glare that can bounce off reflected surfaces such as water, snow and ice to create a clearer, sharper and more vibrant vision. Polarised lenses are a good option for goggles. However, polarised ski goggle technical specification means that they can be quite a more expensive option. Also, if you are planning to participate in some mountaineering on your winter holiday, it is recommended that you do not use polarised lenses as these will distort the view of your surroundings.
Ski Goggle Ventilation
Goggle ventilation is crucial to aiding the circulation of air within the goggle to reduce misting. Ventilation is generally at the top and bottom of the goggle and covered by lightweight foam that helps prevent snow from entering the goggle. Ventilation systems do vary depending on the ski goggle and higher priced products tend to offer more superior levels of ventilation.
Swinging outriggers
Swinging outriggers are not generic to all goggles. Instead some goggles will have them whilst others will not. Swinging outriggers offer flexibility in terms of helmet fit. If you are looking to purchase helmet compatible goggles it may be worth looking at the Bolle range.
Before buying your ski goggles...
Consider how often you realistically think the ski goggles will be used. If they will only be used once, then it is best to choose a basic ski goggle that will offer adequate protection but not leave you out of pocket. However, if you feel they will be extensively used it is worthwhile investing in goggle with more superior technology protection, they will last longer and save you money in the long term.

Think about when you will use the ski goggles. If you are planning to use them in all weather conditions, it is worth considering a pair with interchangeable lenses. These will allow you to adapt your ski goggle depending on the weather and save you money.

Consider what you want you ski goggles to do, do you want helmet compatibility, spherical lenses and so on. This will make choosing appropriate ski goggles easier.

Take face measurements, it will make choosing a suitable ski goggle size easier.

Order goggles well in advance, this will allow you time to try on your goggles and decide if they fit and feel right. Vision3k will refund or exchange unsuitable products, so if your chosen ski goggle does not feel right you have time to try something else.

Don't be afraid to try products on before making a decision. At Vision3k we offer an approval service allowing you to try products (charges apply) before making a decision. For further details see our Returns Policy in the Customer Services section.
If you have any questions please contact our Customer Service team who will be happy to assist you.
You may also be interested in Wintersport sunglasses.
Related news stories:
Related links: