Montblanc Sunglasses
Montblanc sunglasses, a classic urban sunglasses collection.
Introducing the Montblanc sunglasses collection from one of the world's finest manufacturers of sophisticated, high-quality, luxury products. Montblanc sunglasses offer timeless beauty, style and quality. The Montblanc white star has become a symbol of culture and social recognition. The Montblanc brand stands for those intrinsic values that underscore people's efforts to preserve their identity and individuality in a time of constant change. Introducing the new designs and colours of the Montblanc sunglasses collection.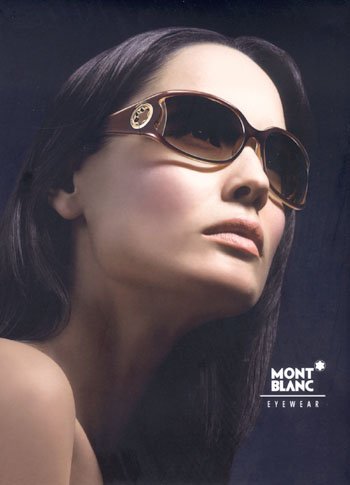 Montblanc Sunglasses Range
Montblanc sunglasses
The timeless Montblanc sunglasses collection is dedicated to giving you a brighter look. The classic black and gold design has its roots in the style of the legendary Montblanc writing instruments, as do the right quality materials from which the sunglasses are made: high quality and exclusive acetate, refined and gold-plated metal. The Montblanc MB star, which appears as a highly distinctive symbol on all the sunglasses, is a sign of the highest quality and perfect craftsmanship and lends a unique accent.
Montblanc sunglasses lenses
The lenses in all Montblanc sunglasses offer the very best vision and effective protection against UVA and UVB rays. The category number of the Montblanc sunglasses lenses indicates the protection level, in accordance with European standard EN 1836:2005. It is recommended not to look directly at the sun or to use Montblanc sunglasses in a solarium.
How to recognise Montblanc lenses filter category
To identify the specific instructions for use relating to your Montblanc sunglasses, refer to the bar code on the product packaging. A number near the * symbol indicates the category of use (EN 1836:2005). Montblanc recommends that you save the barcode for future reference. Please note, Vision3k displays the relevant lens category information next to the lens tint on the product information page.
Montblanc manufacturers informative note
Montblanc sunglasses comply with the 89/686/EEC directives concerning the regulations and the essential safety requirements established by the European standard EN 1836:2005, the American Standard ANSI Z80.3 as well as the Australian Standard AS 1067.1.
Wearing your Montblanc sunglasses
These Montblanc sunglasses are personal protective equipment (PPE) with a class 1 rating, designed to protect the user from the harmful effects of the sun's rays and to offer UV protection in accordance with the main international standards. They are suitable for use in normal circumstances and are not intended for extreme conditions.
General information
The lenses fitted in Montblanc sunglasses feature high optical precision and are impact resistant in accordance with EN 1836:2005 and US FDA regulation 21 CFR 801.410. However, they should not be considered an unbreakable shield. The frames are made of materials chosen specifically to guarantee lightness, comfort and robustness.
Warnings
Montblanc sunglasses are not suitable for looking at the sun directly or for exposure to UV radiation produced by artificial sources. It is not suitable for driving in poor light conditions or for individuals suffering from poor colour vision.
Montblanc sunglasses cleaning and care
We recommend cleaning your Montblanc sunglasses regularly with mild, soapy water; rinse with clean water and polish with a soft cloth. A special cleaning cloth is supplied for cleaning the lenses. Please refrain from using strong cleaning agents, e.g. diluting agents or concentrated cleaners, since these may affect the optical properties of your Montblanc sunglasses.
Montblanc sunglasses warranty
This Montblanc sunglasses product is an original Montblanc creation, made and tested to meet the traditional quality standards of Montblanc. Your Montblanc sunglasses are guaranteed against any manufacturing defect under the following conditions: Montblanc will replace or repair free of charge for up to two (2) years from the date of purchase any part identified by Montblanc's technical service to be defective as a result of a manufacturing fault. After the aforesaid two-year period, Montblanc will repair a Montblanc sunglasses product or part thereof subject to a service charge.
The Montblanc warranty does not cover damage resulting from accidents, mishandling or abusive use (knocks, dents, crushing, etc.), unauthorised alteration, manipulation or repair as well as the consequences of normal wear and ageing.