Dragon Sunglasses
Dragon's sport and fashion sunglasses combine sport technology with contemporary style and design. Dragon sunglasses are designed for all occasions. Functional classic styled sunglasses for everyday use.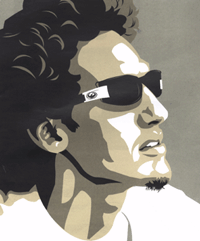 Protection
Eye protection from the sun is very important in the prevention of cumulative long-term eye damage. It is critical that eye protection be successful in blocking out 100% of all UV-A and UV-B light, without distortion, to prevent permanent Retina problems and Cataracts.
Safety
All Dragon products are designed with safety and durability in mind. Only the highest quality frame materials are used to ensure a bio-technical, symbiotic relationship with the wearer. Our optics also provided an important safety barrier, by providing an impenetrable shield for harmful UV radiation and the reduction of glare. For added safety on all our nylon frames, the optics are front-loaded into the lens channel of the frame using a custom mounting process available only from Dragon. This technological design feature renders it impossible for the lens to pass through the frame and into your eye. This, coupled with shatter-proof lens material, allows Dragon to offer maximum eye protection.
Dragon Lenses
Dragon's low-molecular weight carbon based lenses are not only optically true, they block just about anything you can throw at the, including 100% of all harmful UV and blue light. All Dragon products are available in polycarbonate lenses only. This provides light-weight comfort and safety for the wearer from impact or shattering. Our lenses are available in a variety of tints and values, giving the wearer the ability to choose the light transmission that best suits them without compromising the colour rendition or composition.
Grey Lens
24%
Bronze Lens
24%
Grey Ionised Lens
11%
Bronze Polarised Lens
24%
Bronze Polarised Lens
24%
Grey Polarised Lens
24%
Scotch Lens
66%
Rose Lens
66%
Yellow Lens
80%
Blue Lens
90%
 
Lunar Lens
70%
Fire Ionised Lens
11%
Mercury Lens
70%
Flash Lens
24%
 
Grey Gradient Lens
Bronze Gradient Lens
Pink Gradient Lens
Blue Gradient Lens
Green Gradient Lens
Dragon Frames
Of course, Dragon can't ignore the technology that holds our lenses in place: our frames. Like you would expect, the technology is as leading-edge as our lenses. Dragon nylon frames are forged from the highest grade super-polymer materials known to man. These micro-venomite polymers unite in perfect balance to provide ultimate strength and flexibility with virtually no weight to the wearer. Our metal frames are individually machine forged of the purest steel or titanium to ensure strength and quality.
Variable Configuration Geometry (VCG)
All Dragon frames are armed with our exclusive VCG technology. A design process that gives you crystal clear, no-distortion vision at any point of view through the lens curve. While you might think Dragon's bio-enhanced design curves may warp out your vision, nothing could be further from the truth. That is because Dragon engineers set the lenses in the 'true' position for ultimate clarity and create the frame around them.
Polarised
Light waves from the sun vibrate and radiate outward in all directions. Whether the light is transmitted, reflected, scattered or refracted, when its vibrations are aligned into one or more planes of direction, the light is said to be polarised. The Dragon polycarbonate polarised lens is designed to enhance and sharpen objects and to saturate natural colour rendition. This is achieved by screening out direct light and eliminating polarised light from your surroundings, thus allowing your eyes to dilate and view objects and colours more richly and clearly without being too dark.
Rx Availability
All Dragon sunglasses are designed to be optically 'true' and prescription adaptable. When corrected lenses are necessary, Dragon's exclusive VCG frame technology gives you a safe, light-weight corrective alternative.
Dragon Warranty Policy
Dragon sunglasses are warranted against all manufacturers and material defects for one year. Dragon does not warranty lenses against scratching. Warranty is only valid if purchased through an authorised Dragon dealer. Any alteration of products will void warranty.