Calvin Klein Sunglasses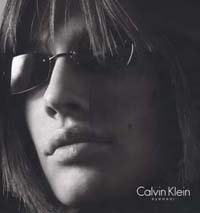 A minimalist design sensibility, superior quality and expert craftsmanship are reflected in Calvin Klein sunglasses. The sunglass collection makes a strong fashion statement for today's modern man and woman.
Calvin Klein, an eyeglass wearer and collector himself, translates his "less is more" philosophy beautifully into the Calvin Klein eyewear collection.
cK is one of the largest global fashion sunglass collections in the world. With the modern technology inspiring modern form - graphic translucence in rich colours and textures illuminates.
This edgy young sunglass collection crosses all boundaries. Modern and bold it redefines industrial design to create sunwear that performs like active wear. It works techno-modern and looks techno-cool.