Bloc Sunglasses - Frame Technology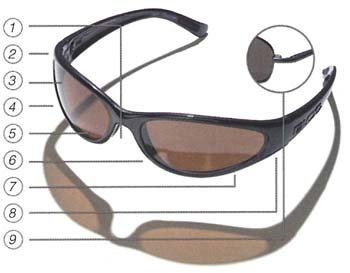 BLOC FRAME ANATOMY
Comfortable slip resistant silicone nose pads;
Virtually indestructable nylon / tr90 frame material;
Optical class 1 lens;
Karbon8 lens material is lightweight, comfortable and impact resistant;
Anti-scratch lens coating;
Anatomic frame design;
Flawless finishing - nylon frames are tumbled in teakwood and bamboo until all sharp edges are removed;
Sport hinges for total strength;
Metal frames fitted with spring hinges for a comfortable and perfect fit.
Bloc Frame Technology
Bloc sports frames (Nylon66 and TR90) utilise an 8 base curve to provide a natural close cranial fit helping to eliminate the vortex of wind during high speed activities.
The curve also enhances peripheral vision. Frames are further reinforced in areas of stress and fitted with an integral sports hinge for increased strength, flexibility and durability. Soft rubber nose pads are fitted to assist facial grip without the uncomfortable cranial pressure often associated with other brands.

The Nylon66 and TR90 frames are tough, flexible and lightweight and are more than capable of standing up to the rigors of outdoor high impact sports.
All frames are machine polished for up to 24 hours before being cleaned and sterilised, after which they are sprayed or hand painted depending on the compexity of the finish required.
Bloc's anatomically designed metal frames are meticulously formed from a fusion of components - Nickel / Stainless Steel and Monel - ensuring each part of the frame has the best metal composite, i.e. the temples require a more flexible metal than the nose bridge, which must remain rigid.
Hypoallergenic coatings are applied and soft nose pads are then fitted to ensure maximum comfort and feel.